All shipping is through Royal Mail

FREE Shipping on all orders over £40. This will be by way of option 1. You will have the option to chose another method which will be charged for if so.

Orders are sent out same day but please allow an additional day when there is a sale on, simply down to volume of orders.
There are 4 current shipping options for the UK.
Royal Mail Tracked 48 if ordered before 2pm. (Delivery within 2 working days but not guaranteed)

Royal Mail Tracked 24 if ordered before 2pm. (Should be delivered in 1 working day but not guaranteed)

Next Day Guaranteed if ordered before 2pm. (Mon-Thurs only)

Guaranteed Saturday Delivery if ordered before 2pm. (valid Friday only)

Shipping is Monday to Saturday from 24th October 2016.

If an item does not turn up. Vaping 101 ask that you wait 5 working days after date of dispatch to see if it arrives. If still not arrived, a replacement will be sent. FYI Royal Mail actually make me wait 10 working days before I can even report. This is not acceptable for Customers though and 5 days I believe is fair. By ordering from Vaping 101 you accept the terms. Refunds for late deliveries will not be offered. The payment is less than actual cost to deliver the item and your parcel will always be sent on time. Royal Mail may on occasion deliver late but Vaping 101 cannot and will not be held responsible. The same cost still applies to us. No money is made from delivery costs and in fact they are subsidised by Vaping 101.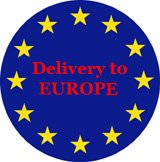 Currently Vaping 101 offers Shipping Option to all EU Member countries. Expansion to other international countries is being considered.