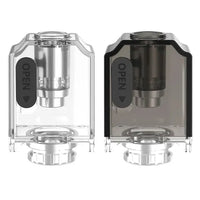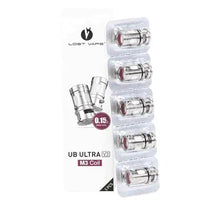 Description
The Lost Vape Centaurus B60 AIO Vape Kit is not just another vaping device; it's a statement of style, power, and versatility. Designed for both beginners and seasoned vapers, this compact and versatile AIO boro style device stands out in the crowded market. Available at Vaping 101, this kit is a testament to Lost Vape's commitment to quality and innovation.
Unparalleled Power and Flexibility
With an adjustable power range from 5 to 60 watts, the Lost Vape Centaurus B60 AIO Vape Kit ensures that every vaper finds their sweet spot. The device intelligently adjusts its max power limits based on the coil you use:
60W with 0.2ohm coils
40W with 0.3ohm coils
30W with 0.4ohm coils
21W with 0.6ohm coils
17W with 0.8ohm coils
16W for 1.0ohm or higher resistance coils.
For those who crave full control, the RBA mode is a game-changer. Unlock it by quickly pressing the fire button five times within two seconds. This mode is ideal for advanced users who rebuild their own coils or want more control over the stock UB ultra coils.
Sleek Design Meets Functionality
The Centaurus B60 AIO vape kit doesn't just look good; it's packed with features that enhance the vaping experience. The built-in 1600mAh battery ensures long vaping sessions, and with fast USB type-C charging, you're never out of action for long. The 0.42'' OLED screen combined with easy-to-use buttons (fire, plus, and minus) offers a user-friendly interface.
The UB aio boro style tank is a masterpiece in design and functionality. Compatible with ultra boost coils, it offers all-in-one vaping in a simple yet effective package. Adjusting the airflow to get the perfect hit is a breeze, even with the tank installed in the device. Refilling is hassle-free, thanks to the top side fill port sealed with a rubber bung.
Key Features:
Adjustable wattage range from 5 watts to 60 watts
AIO boro style device with an UB aio tank
Compatible with Lost Vape UB ultra coils
Adjustable Airflow ring
0.42'' OLED screen with a simple 3-button operation
RBA mode for fully adjustable wattage
Built-in 1600mAh Battery
Fast USB type-C charging
What's In The Box:
1 x Centaurus B60 Device
1 x UB boro tank
1 x 0.2ohm coil
1 x 0.3ohm coil
1 x USB type-C cable
1 x tank spanner
1 x spare drip tip
How To Use This: 
(Once we have the device we will have a guide)
Shipping and Returns
• Delivery is free for all orders over £50. Otherwise, delivery is £3 to £12 depending on the service you plan to purchase.
• Once your product has shipped, it usually takes 2 to 3 business days in UK, 5 to 12 in Europe. 10 to 15 for the rest of the world.
• You can return your product up to 30 days after receiving your order. Please make sure that the products are not used or damaged.
Payment & Security
Your payment information is processed securely. We do not store credit card details nor have access to your credit card information.