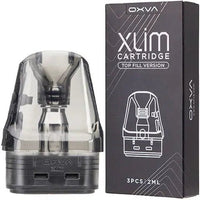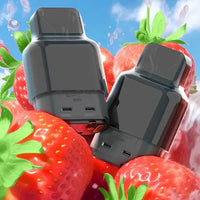 Description
The Oxva Xlim V2 Pod Kit is the latest in the Xlim line from Oxva. Recognised for it's simplify, the fantastic new pods and the ability to draw the best flavour from E-Liquids.
The Oxva Xlim V2 Pod Kit is a small and compact pod device that easily fits into your pocket, featuring an impressive 900mAh battery it is designed to last a good while on a single charge.
The Kit comes with two Oxva *Xlim pods that are designed for mouth to lung and restrictive direct to lung vaping, the 1.2ohm pod that is supplied is best used with high pg juice so E-Liquid that is 50pg or higher whereas the 0.8ohm coil can be used with high vg and high pg, the airflow can be adjusted via the slider on the side of the device to perfectly fine tune the draw to suit your preference. 

Oxva have created the Xlim with ease in mind, the super visible screen is situated directly above the fire button which will show relevant data such as battery indicator, wattage used and the resistance of the pod that is being used, the wattage can be adjusted in 0.5w increments by simply clicking the fire button 3 times and then clicking the button again to increase upto a maximum of 25w. Not only do you have the option to adjust the wattage to suit your personal preference when installing a new pod it will auto detect and select the wattage that is recommended, so straight away you have a idea of what power level is most effective for your setup. This device also features a super fast actioning draw activation meaning no button pressing and no delays. 
The pods that are used in the Oxva Xlim V2 have an integrated coil that can not be replaced, once the coil has reached its lifespan just dispose of the entire pod and replace, no more messy coil changes, no more buying pods and coils. Each pod can hold a capacity of 2ml and is easily filled up via the top, simply push the mouth piece to the side, fill with your favourite eliquid, pop the mouth piece back on and away you go.
Specifications:

Capacity: 2ml
Wattage output: 5-25w
Wattage adjustment: Increments of 0.5w
Type-C Usb Charged
Draw Activation
Button Activation
Smart Coil detection chipset
Side Adjustable Airflow Slider
Top Fill

Comes With:

OXVA Xlim V2 Pod Device
OXVA Xlim Pod Device
0.8 Ohm OXVA Xlim V2 Pod
0.6 Ohm OXVA Xlim V2 Pod
USB-C Charger
User Manual
Shipping and Returns
• Delivery is free for all orders over £50. Otherwise, delivery is £3 to £12 depending on the service you plan to purchase.
• Once your product has shipped, it usually takes 2 to 3 business days in UK, 5 to 12 in Europe. 10 to 15 for the rest of the world.
• You can return your product up to 30 days after receiving your order. Please make sure that the products are not used or damaged.
Reviews
Amazing!
Super smooth drag
Good battery life
Pods last ages
amazing pod, very good flavor
Xlim see
I bought a xlim se pod and it's great I have not had a fag or a roll up in 3 days 101 vape shop on Union Street was great so was abby xxx
Oxva zlim
Was on disposable vape this vape pen is absolutely perfect
Payment & Security
Your payment information is processed securely. We do not store credit card details nor have access to your credit card information.