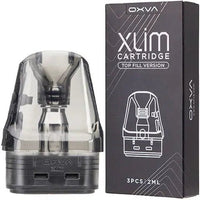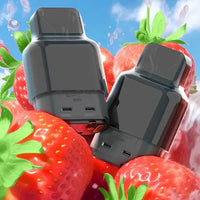 Description
Xlim SQ Pro Vape Pod By OXVA is an incredibly advanced version of the classic OXVA SQ. This device is packed with features that make your vaping experience completely straightforward and enjoyable. With its 1200mAh battery and fast 2AMP USB-C charging, you'll never have to worry about running out of power.
Key Features
Unmatched Battery Life
The Xlim SQ Pro Pod Vape comes with a robust 1200mAh battery, ensuring that you can enjoy extended vaping sessions without any interruptions. The fast 2AMP USB-C charging feature allows for quick battery top-ups, making it an obvious choice for those on the go.
Exceptional Flavour and Vapor Production
Utilizing OXVA Xlim V2 or top-fill V3 pods , this device delivers fantastic flavour from your vape juice and impressive vapour production. The pods are compatible with a variety of nicotine strengths, giving you the control to customize your vaping experience.
Smart and Customizable Airflow
Adjust your vaping experience to your liking with the device's adjustable airflow feature. Whether you prefer a tight draw or a loose one, the Xlim SQ Pro has got you covered.
Intelligent Chipset
Equipped with a smart chipset, the Xlim SQ Pro automatically adjusts the power output to match the installed pod. This optimizes performance and extends the life of your pods. For those who prefer manual control, simply click the button three times and adjust the wattage by tapping the button.
User-Friendly Display
Stay informed with the smart 0.96-inch display that shows vital vaping information such as puff count, wattage, and vape time.
Sleek and Compact Design
The Xlim SQ Pro boasts a sleek and compact design, making it easy to carry around. Its build quality praises durability while maintaining a stylish appearance.
Modes and Themes
Pressing the fire button twice allows you to choose a theme and switch between power mode or smart mode, adding an extra layer of customization to your vaping experience.
What's in the box?
1 x Xlim SQ Pro device
1 x 0.6ohm pod
1 x 0.8ohm pod
1 x Lanyard
1 x Manual
1 x USB-C cable
Why Choose Xlim SQ Pro By OXVA?
If you're looking for a vape device that combines convenience, performance, and style, then the Xlim SQ Pro is the perfect choice. With its list of impressive features and high-quality build, it offers an unparalleled vaping experience.
Shipping and Returns
• Delivery is free for all orders over £50. Otherwise, delivery is £3 to £12 depending on the service you plan to purchase.
• Once your product has shipped, it usually takes 2 to 3 business days in UK, 5 to 12 in Europe. 10 to 15 for the rest of the world.
• You can return your product up to 30 days after receiving your order. Please make sure that the products are not used or damaged.
Payment & Security
Your payment information is processed securely. We do not store credit card details nor have access to your credit card information.