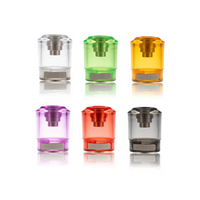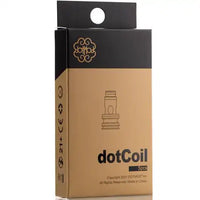 Description
The DotStick Revo by DotMod is a revolutionary pod kit. Made for a Mouth To Lung (MTL) or a restricted direct to lung (RDTL), the DotStick has a modern and original design. The DotStick Revo is compatible with all the dotCoils from 0.3 Ω. The pod is included with the dotCoils 0.7 Ω and 0.9 Ω, for a soft and fine vape. Perfect for vaping with nicotine E-Liquids and nicotine salts . 
The DotStick Revo revolutionizes the world of electronic cigarettes with a new type of battery, the supercapacitor battery. This supercapacitor has a capacity which is equivalent to a classic lithium-ion battery in 700 mAh. It can be charged (in USB-C) and discharged over 15,000 times with minimal degradation. The classic lithium-ion battery can be charged and discharged between 300 and 500 times, in case of short circuit, the battery with the supercapacitor does not cause excessive heating and danger. To finish, this modern battery offers a rapid recharge time with the USB-C connection and cable.
The Dotstick Revo has an output power between 5-35 watts depending on the coil installed, The pod kit can fire down to as low as 0.28ohm and as high as 2.20ohm and is compatible with the dotCoil from 0.3ohm, to change the power out put all you need to do is press the fire button three times in quick concession, the LED will then change colour, Red for High, Blue for Medium and Green for low power. Bypass mode is also possible when using 1.2ohm up to 2.20ohm coils meaning that the power will draw directly from the power source. 
Specifications:

Dimensions: 109x21mm
Capacity: 2ml
Battery Capacity: Supercapacitor Equivalent to 700mAh
Power output : 5-35w
Resistance Range: 0.28ohm - 2.20ohm
Compatible with dotStick Coils

Comes With:

1x Dotstick Revo
1x Revo Pod/Cartridge
1x dotCoil 0.9ohm
1x dotCoil 0.7ohm
1x Driptip
1x USB-C Cable
1x User Manual 
Shipping and Returns
• Delivery is free for all orders over £50. Otherwise, delivery is £3 to £12 depending on the service you plan to purchase.
• Once your product has shipped, it usually takes 2 to 3 business days in UK, 5 to 12 in Europe. 10 to 15 for the rest of the world.
• You can return your product up to 30 days after receiving your order. Please make sure that the products are not used or damaged.
Reviews
Excellent
Brilliant device small portable and fast recharge easy to change coils and a reasonable price I have purchased two, nothing bad to say.
One of the best
I got one of these from my son on Sunday and charging it up in 20min it worked great I would recommend anyone thinking of getting one you should as they have a great taste and with 3 settings on them you can set it to whatever amount of nicotine you need instead of the ones that you are stuck with
Great Little Vape
Good Vape Easy to use battery lasts quite a long time then even with a normal charger gets back to 100% in no time☺
order yourself a XL tank from V 101 and you are laughing
Purple
it looks very nice than the picture, hit like steam no need for the same color tank cox in clear it looks elegant
Sucker for Novelty
It kicks a good cloud, I'm using the 0.7 coils atm, but I'll likely buy 0.9s when I need them, good amount of cloud, satisfying to hit, the flavour is maybe a bit muted? This is compared to my Caliburn G2 that I got off my partner, that device gives much more flavour than the Dotstick, but the Dotstick still performs excellently.
The charging is insanely fast, as advertised, either on 30w or just a regular charger, charging time is minimal, which works for the device. I've noticed since I got it, the 100% - 61% charge ( green light) uses up super quickly, which I guess makes sense as it's pumping more power through, then the blue light (60% - 21%) lasts much longer, but obviously with less power input, I think that's my only major criticism, but purely because I like a powerful hit. This is naturally negated through just charging it when it hits blue, which isn't going to screw up the device as is the whole point!
The design is slick however, and feels great to hold, I really enjoy that the tank is just a magnet that clips onto the mod itself, however I've not put it in a busy pocket yet, but I could imagine it'd come loose.
As for the coil, I've only had the device since Wednesday and the coil is still going strong, if I remember, I'll do another comment when the coil dies and let you know how long I got out of it, but of course it's all subjective on how much you use it and how careful you are not to chain vape ( guilty )
Overall, I really like the device, I am a sucker for novelty, and new things, but I've been just taking this device to work with me since I got it, rather than my Caliburn and LV Thelema Quest.
Payment & Security
Your payment information is processed securely. We do not store credit card details nor have access to your credit card information.