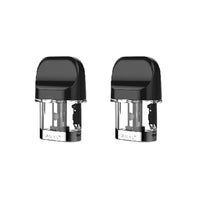 Description
Smok PROPOD GT Kit: The Ultimate Vaping Experience
Introduction Introducing the Smok PROPOD GT Kit, a game-changer in the vaping world. This state-of-the-art pod kit is designed for both beginners and seasoned vapers, offering a seamless blend of performance, convenience, and style.
Key Features
Powerful Performance: With a built-in 700mAh USB-C rechargeable battery, the PROPOD GT ensures consistent vaping sessions.

Optimal Output: The device boasts a maximum wattage output of 22W and a voltage output of up to 4.2V.

Versatile Resistance: Catering to various vaping styles, it supports a resistance output range of 0.6-2.5ohm.

User-Friendly Design: The draw-activated mechanism ensures effortless vaping, while the adjustable airflow control lets you customize your experience.

Generous Capacity: The 2ml pod capacity, combined with a top-fill mechanism, makes refilling your vape juice a breeze.

Pod Compatibility: The PROPOD GT is versatile, compatible with Novo 2X Pods, Novo Pods, and Novo 2 Pods.
Specifications
Battery: Built-In 700mAh USB-C Rechargeable
Maximum Wattage Output: 22W
Maximum Voltage Output: 4.2V
Resistance Output Range: 0.6-2.5ohm
Activation: Draw-Activated
Airflow: Adjustable
Pod Capacity: 2ml
Filling: Top Fill Mechanism
FAQs
How long does the Smok PROPOD GT battery last? Typically, the 700mAh battery can last a day or more, depending on usage.

Is the Smok PROPOD GT compatible with other Novo pods? Yes, it's compatible with Novo 2X Pods, Novo Pods, and Novo 2 Pods.

How do you refill the PROPOD GT pod? The device features a top-fill mechanism, making the refilling process quick and mess-free.

What's the maximum wattage of the PROPOD GT? The PROPOD GT offers a maximum wattage output of 22W.
Conclusion The Smok PROPOD GT Kit is a testament to Smok's commitment to innovation and quality. Whether you're new to vaping or looking for an upgrade, the PROPOD GT promises an unmatched experience.
Shipping and Returns
• Delivery is free for all orders over £50. Otherwise, delivery is £3 to £12 depending on the service you plan to purchase.
• Once your product has shipped, it usually takes 2 to 3 business days in UK, 5 to 12 in Europe. 10 to 15 for the rest of the world.
• You can return your product up to 30 days after receiving your order. Please make sure that the products are not used or damaged.
Payment & Security
Your payment information is processed securely. We do not store credit card details nor have access to your credit card information.