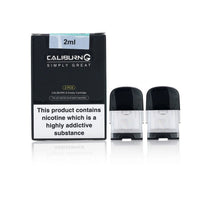 Description
It's hard to go wrong with Uwell's Caliburn range of top quality pod kits, and the Caliburn G2 is no exception. Although it looks similar to the Caliburn G and features the same e-liquid viewing window as the Caliburn A2, this model is unique in its brand new vibration interaction feature. This provides haptic feedback with a variety of vibration patterns to alert the vaper to short-circuit, vaping timeout, or low voltage. Pretty smart for such a small and affordable vape kit, right? 
Additionally, the Caliburn G2 makes use of an adjustable airflow wheel for precise and comfortable airflow adjustment. The built-in 750mAh battery keeps it charged all day and uses fast charging USB-C to get your vape fully charged again in no time. The Uwell Caliburn G2 is compatible with both the original Caliburn G coils as well as the new Galiburn G2 1.2 ohm meshed coil for an even better vaping experience. 
Using both draw activation and button activation, this model from Uwell is an intuitive and beginner-friendly vape kit for any vaper. Get yours today to enjoy an excellent vaping experience every time. 
Caliburn G2 features
Perfect for MTL and RDL vaping
Vibration interaction for haptic feedback
Adjustable airflow wheel for easy adjustment
E-liquid window so you can see how much is remaining
Draw activated or button activated
Compatible with Caliburn G coils and G2 1.2 ohm coils
Pro-FOCS flavour adjusting technology to get the best out of your e-liquids
Comfortable mouthpiece design 
2ml e-liquid capacity 
Top filling for easy e-liquid replacement 
18W max output
Caliburn G2 specifications
Dimensions
110.5 x 22.5 x 13mm
Battery
750mAh battery (built-in)
Material
PA, aluminium alloy
Power output
18W
It comes with
1x Uwell Caliburn G2 Pod System
1x Uwell UN2 Meshed-H 1.2ohm Coil (pre-installed)
1x Uwell UN2 Meshed-H 0.8ohm Coil
1x User Manual
1x Type-C Charging Cable
Frequently asked questions
What e-liquid should I vape with the Uwell Caliburn G2?
The best type of e-liquid to use with the Uwell Caliburn G2 is a nic salt. These e-liquids are usually mixed in a 50:50 ratio of PG and VG, making them perfectly balanced for the Caliburn G2. Moreover, the super-smooth and rapidly absorbing nicotine content in nic salts makes them satisfying every time. Check out Vaping 101's selection of nicotine salts to find a flavour that you fancy, 
Where can I buy replacement pods for the Caliburn G2?
You can easily buy Caliburn G2 pods here on the Vaping 101 online store. 
How do I adjust the airflow on the Caliburn G2?
The Uwell Caliburn G2 features an intuitive wheel for airflow adjustment, allowing you to choose your preferred draw. Just rotate the wheel for your preferred MTL or RDL vape. 
How do I refill the Caliburn G2 pods? 
It couldn't be easier to replace the e-liquid in your top-fill Caliburn G2 pods. Just remove the top cap and carefully squeeze the e-juice into the pod. Then, replace the top cap and make sure it is secure before you continue vaping.
How does the G2 compare to other Caliburn pod kits?
The Caliburn G2 boasts the best features of the Caliburn series, including a similar sleek profile to the original Caliburn and Caliburn G and the e-liquid viewing window introduced in the Caliburn A2 pod kit.
If you enjoy a bar-shaped pod kit the Caliburn G2 is a great option, although vapers who prefer a chunkier pod system may opt instead for the Uwell Caliburn AK2 or the upcoming Caliburn AK3 pod kit. 
Any Caliburn G2 fans who are looking to step up their vaping game may be interested in the Caliburn X pod system. 
Is the Caliburn series suitable for beginners?
Yes, we highly recommend the Uwell Caliburn range to new vapers because of their high quality, ease-of-use, and affordability. With many of their vape kits priced at less than £20, the Caliburn G, G2, A2, and other models are ideal for beginners. Plus, the models in the Caliburn range are made of durable materials to ensure that they are long lasting. 
Is Uwell a good vape brand?
Uwell is one of the biggest names in vaping and for good reason. Known for their high quality vape products, Uwell caters both to beginners and advanced vapers with their wide range of vape kits, tanks, coils, and more. We're proud to be an authorised UK seller of the best Uwell vapes.
What are MTL and RDL?
MTL and RDL are two vaping styles that are possible with the Uwell Caliburn G2. MTL stands for mouth-to-lung and is the type of vaping most similar to smoking a cigarette. Vapers will suck the e-cigarette's vapour into their mouth, hold it there, then inhale it into their lungs. RDL, on the other hand, stands for restricted-direct-lung. This type of vaping uses more airflow and causes more vapour. 
Shipping and Returns
• Delivery is free for all orders over £50. Otherwise, delivery is £3 to £12 depending on the service you plan to purchase.
• Once your product has shipped, it usually takes 2 to 3 business days in UK, 5 to 12 in Europe. 10 to 15 for the rest of the world.
• You can return your product up to 30 days after receiving your order. Please make sure that the products are not used or damaged.
Reviews
Good
Got this to use some coils for it I had laying around instead of buying more pods for the A2 I had been using. Glad I did, works great and feels sturdier than the A2 and battery lasts longer. Charges in no time too.
Great little pod system
Need something less bulky for work, cracking little device, 1.2 coils last ages with good flavour
Caliburn G2
Been into my rebuilders for ever 6 year and just wanting a pocket device for out and about
I'm really impressed with it coils last for ages and the flavour is spot on
Vaping 101 as per usual was top notch
It's a Caliburn!
Ok, so I've had a few pod devices in the past, it's been, oh I don't know, 4 years since the last, so I thought it's time to check out another, here goes.
Uwell Caliburn G2 pod kit is basically like other caliburn devices, just different designs styles, getting better as they go.
This G2 is another very good pod device by Uwell.
Not surprised in it's performance, its a caliburn!, used both the 0.8ohm and 1.2ohm coils, both performed great, good flavour, some nice vapour, nothing like producing a weather system!, but nevertheless some vapour.
Small enough and light enough to pop in your pocket and have a cheeky little vape now and then.
Used at work and home on days off, on average the battery lasted anywhere between 4 hours and 10 hours with my vaping style, obviously it'll be different for others, from dead to fully charged took around 40 minutes.
Had this caliburn G2 for a while now and wanted to put it through it's paces, very happy with it in all, ideal for out and about, and I would also recommend it for people wanting to get off the deadly smokes and try vaping, much safer and healthier, 13 years smoke free here.
Big thanks to Vaping101 for great service as usual.
Good mod
Great pod design although can get a little gurgling from time to time. Handy usb c charger, and back to full charge in 30 mins. Recommended
Payment & Security
Your payment information is processed securely. We do not store credit card details nor have access to your credit card information.